Pelle Firm Treatment
Sharing my experience with the cellulite-busting treatment from Enlighten MD
REAL TALK: No one is immune to the affects of cellulite no matter how thin they are...
That said, I am living proof that cellulite is not necessarily a "fat problem". Cellulite is something that has slowly creeped up on me (especially as I'm nearing the big 3-0). I have NO idea how to go about combatting the war that cellulite is waging on my legs. The truth is, I am losing the war — cellulite has started to take my legs hostage!!!! I tell myself every day that "every woman has it somewhere on their body," which [they say] is totally normal. But I'm not ready to give up and surrender my legs to cellulite...
My friends and I jokingly refer to myself as "skinny fat". Admittedly, I do not have great exercise habits (and by "not great" I mean "nonexistent) — I KNOW that I will need to start working exercise into my daily routine as I get older.. that's just logic. However, everything I read about cellulite makes it pretty damn clear that even the most fit women fall victim to cellulite. Soooo like I do with most of my aging questions, I took my woes to the skincare gurus at Enlighten MD. After taking a look at my legs, Channing Bartee told me that there IS a treatment that could help me fight off the cellulite. Channing, who is a Certified AestheticianLaser/CoolSculpting Technician, explained that the PelleFirm treatment would definitely reduce the appearance of cellulite on my legs (as well as tighten & smooth the skin as an added bonus). She also explained that since I am at the beginning phases of "cellulite takeover", I would likely get some really awesome results. I immediately booked my first appointment!
Scroll down to read more...
The Science:
PelleFirm is a radio-frequency treatment for the body that heats target areas to a specific temperature while a mechanical massage heads break down the fat cells that cause the appearance of cellulite. This process creates a reaction to stimulate collagen production under the skin, creating smooth and younger looking skin with a reduced appearance of cellulite.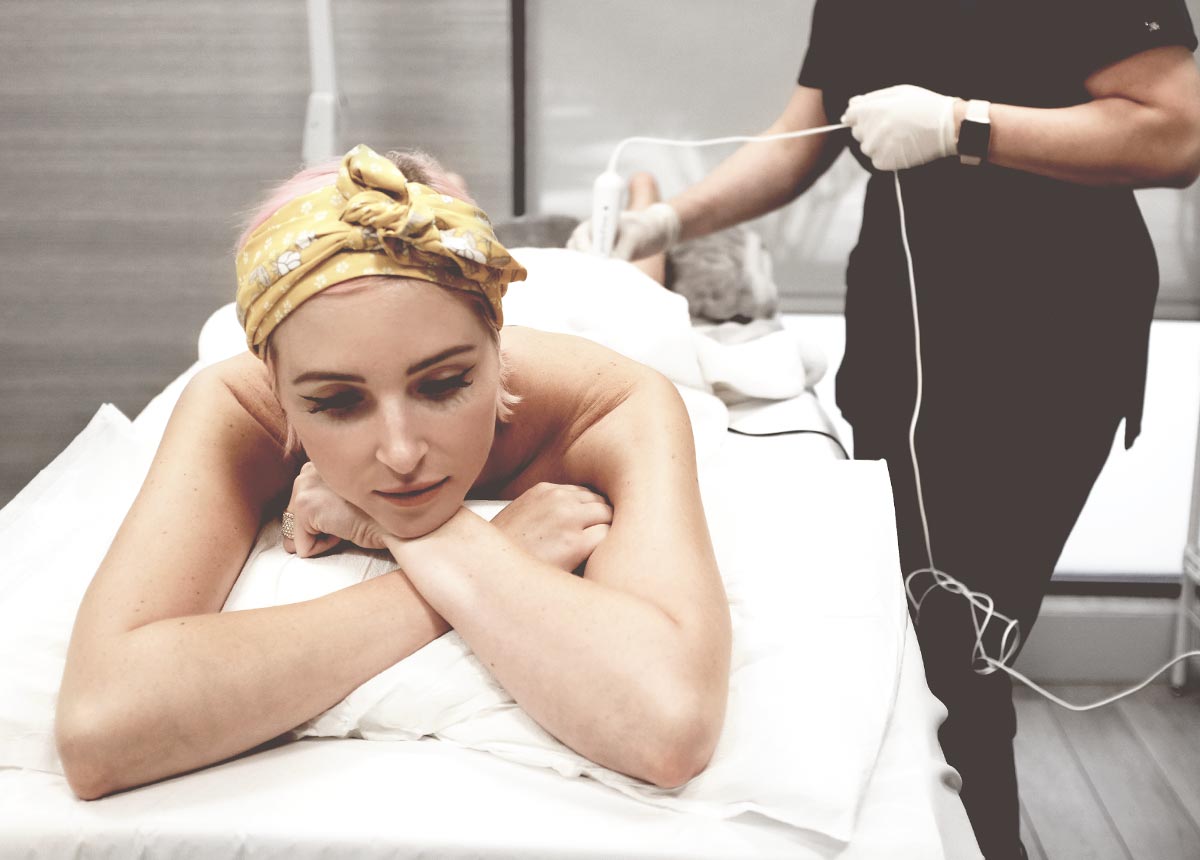 The Procedure:
Channing suggested that we start with 4 treatment sessions to get optimal results. The sessions themselves take about an hour and a half and must be spread out 3 weeks apart. We are focusing on my biggest problem area — upper leg (thigh/butt). I can't even begin to describe how EASY and PAINLESS this procedure is. It almost makes me question how results are possible!! The PelleFirm wand basically uses heat to deeply massage the tissue, which will result in more blood flow and reduce the appearance of cellulite. So basically, I'm just getting a heat blasted leg massage. I literally fell asleep in my last session. I'd also like to add that Channing, the technician, is a joy to talk to. She is also knowledgeable about the procedure and explains the science behind it (way better than I can).
Results:
I am halfway through 4 treatment sessions (2 down, 2 to go). Before/After pictures to come after I finish my treatments.... stay tuned....
In Conclusion:
If I've learned anything about cellulite, its that it is merciless — even when you think you've won the war, it comes back with a vengeance. Healthy diet and exercise will always be the natural cellulite busters. But I'm thankful to know that there are treatments like #pellefirm to help combat cellulite along the way!!! And as always, I am grateful to have the experts at Enlighten MD to guide me as I *attempt* to age gracefully ;)
‍
‍
Before:
credits
Treatment courtesy of Enlighten MD
Summer Sale: 15% off any treatment
Use promo code WE THE BIRDS to get $50 off your first treatment (basically just tell them WE THE BIRDS sent you when you make your appointment).